Written for The City Watch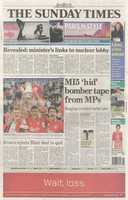 A report has arrived at TCW Headquarters that something has disturbed the Netherdrakes in Southeast Shadowmoon Valley.
Mordenai, a Night Elf in the area reports that, "They won't even come down to feed. I have seen several fall to the earth, dead from exhaustion before their bodies hit the ground."
A patrol is to be dispatched this coming Sunday at 11 a.m. from Wildhammer Stronghold.
This week's Sunday Daily will be concentrating on finishing the initial quest line that will open up the Netherwing daily quests. These daily and repeatable quests will build reputation with the Netherwing faction and pay you 11 gold each time you complete one.
Do your quests every day and at the end of two weeks, yes that's correct one fortnight, you will have the gold to purchase your Epic Flyer AND the necessary reputation with the Netherwing Faction to have earned the right to ride a Netherdrake!
The only drawback is that there are six of these to choose from at the vendor
/hand + forehead
Here is the Wowwiki page that covers the Netherwing Faction:
http://www.wowwiki.com/Netherwing
If you look in the upper left corner you will see a tiny little link entitled "Required quest chain". That is the quest chain we will be doing.
Wowhead has a good list with hints and tips on the quests here:
http://www.wowhead.com/?quest=10804

Facts about this questline:
1. Most of these are solo'able quests which are sharable, feel free to work ahead of the class if you wish.
2. The quest giver for much of the chain is flying above Shadowmoon Valley at approx 60, 63 so you will need a flying mount if you want to work ahead of the class.
3. We will need at least one tank type character, and one healer for step eight in the quest chain "Zuluhead the Whacked". This quest is a boss type fight.
4. Everyone is welcome to come.
5. Mordenai is more than he appears.
5. You do not need 5000g to get started on your Netherdrake
6. Vik likes to enjoy a nice cup of Kona Blend while doing his daily quests in the morning (two scoops of sugar, and just the right amount of half & half please).