Written for The City Watch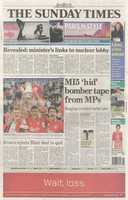 The Botanica
was our assignment for The Sunday Daily this week. TCW members Biebi, Viktel, Silverywolfe, and Lythand were joined by Dreadnaught member and Tankadin Medallaplus bright and early to make this run.
Medallaplus proved to be a very experienced player and led TCW through Bot with no wipes and no deaths.
Lythand had a great run recieving the
Prismatic Mittens of Mending
and the
Runed Dagger of Solace.
Viktel just about fell out of his chair when he saw his first piece of Beast Lord Gear (he's been trying for some since Halloween). When
Warp Splinter
dropped the
Beast Lord Cuirass
he was heard to exclaim; "Holy Crap!".
Look for next weeks Sunday Daily to be posted on the Calendar!